We have a couple of winners! After a fun evening at Bike Surgeon we got down to business and raffled off the Southern Illinois Fat Tire Festival pair of tickets and Kevin Ginther was our lucky winner who also happened to be present. He's excited to attend the event this October!
Next the 260 entries in the bag were thoroughly shaken and one name was pulled - Donald Westlake - winner of the Origin8 fatbike! Though we was not present we will be in contact for him to pick up the grand prize!
And a huge thank you(!!!) to all our hard-working volunteers who put in over 2,000 hours of trail time building and maintaining our region's singletrack network! We hope to see you this fall as we continue several projects and possibly begin new ones.
Lastly, we are grateful for Bike Surgeon's support of GORC throughout the years and hope you check out their family-friendly fat tire festival at Camp Ondessonk!
++++++++
The successful spring trail building season has wrapped (1,900+ volunteer hours and counting!) and now it's time to celebrate. Good things come to those who wait and boy have we waited. Well, with a crazed and busy post-spring season and the full mtb racing schedule we had to find a convenient weekend for everyone to be able to attend the raffle drawing.
So let's throw a big party! GORC and Bike Surgeon have teamed up and Bike Surgeon will be hosting the raffle party at their location in Shiloh, Illinois on August 6, 2016. The celebration with food and beverages starts at 6pm and the winner of the Origin8 Crawler will be drawn along with some drawings for some swag and a runners-up drawing for a free entry into the 2016 Southern Fat Tire Festival (a pretty sweet prize!!).
See who else is going to party down!
Date: August 6, 2016 Saturday - Party starts at 6pm. Party goes till...

Where: Bike Surgeon in Shiloh, Illinois. They are only 15 minutes from the Arch and have an awesome shop.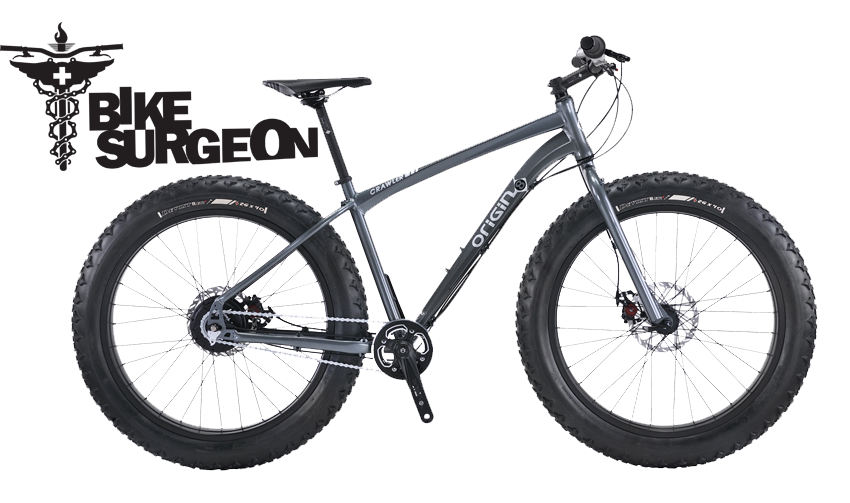 See who else is going to party down!
+*+*+ --> Remember that in order to have an opportunity to win you need to have
(1) attended (and signed in the general attendance sheet) at least one social event or trailbuilding event
AND
(2) be a CURRENT paid GORC member (individual, family or lifetime).
Make sure you are a member if you want to take home this MEDIUM sized $1,475.00 fun fatbike.
Directions from STL:
Follow I-64 E to N Green Mt Rd in O'Fallon. Take exit 16 from I-64 E
Merge onto I-64 E/US-40 E
Entering Illinois
Keep left to continue on I-55 N/I-64 E - 2.2 mi
Keep right at the fork to continue on I-64 E/IL-3 N, follow signs for Louisville/St Clair Ave
Continue to follow I-64 E - 12.8 mi
Take exit 16 toward Shiloh/O'Fallon - 0.4 mi
Follow N Green Mt Rd to Green Mt Crossing Dr in Shiloh - 2 min (0.4 mi)
Turn right onto N Green Mt Rd
Turn left at the 1st cross street onto Green Mt Crossing Dr
Turn left to stay on Green Mt Crossing Dr
Turn right to stay on Green Mt Crossing Dr

Bike Surgeon Store Information
Store Hours: Mon-Sat 10am-7pm Sun 12pm-5pm
Telephone: (618) 622.1693
E-Mail: info@bikesurgeon.com
Address: 3248 Green Mount Crossing Dr Shiloh, Illinois 62269
The amazing raffle prize is a Origin8 Crawler fat bike valued at $1,475.00.
Here's our original post with all the details.